Seafood Market – Open 7 days a week
With a great range of local seafood to choose from, there will definitely be something to tempt your taste buds. Our specialty is wild caught prawns, delicious Bundaberg scallops and fresh reef and estuary fish direct from the ocean to your plate.
Our team of seafood processors work hard to deliver our customers high quality seafood. The prawn trawlers unload at our wharf, our own reef fishing vessel brings in fresh catches of coral trout, red emperor, snapper, hussar, cod, and the local fishing fleet unload their fresh catches of barramundi, king salmon, mullet and fresh fish and crabs daily, depending on seasonal availability and weather.
We are more than happy to pack your seafood for travel and also offer a range of frozen seafood for you to take home and stock up with.
Seafood Platters
Seafood platters can be made to order and our seafood trays are a great raffle or fundraising idea.
Opening hours
We are open 7 days, including public holidays. The only day we are closed is Christmas Day.
Seafood Market Opening Hours
Monday to Friday
7am - 5:30pm
Saturday
7am - 5pm
Sunday
8am - 4pm
Select Public Holidays
8am - 4pm
CLOSED Easter Monday & Christmas Day
Bait and Ice
We can also supply your bait and ice for your own fishing trips, family get togethers and social events.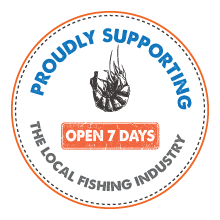 Looking for something different?
If you are looking for a specialty item that we do not have in stock, we will do our best to try and source the product for you.
Contact us on
07 4152 2722
Some images from our Seafood Market
We are passionate about the local fishing industry.